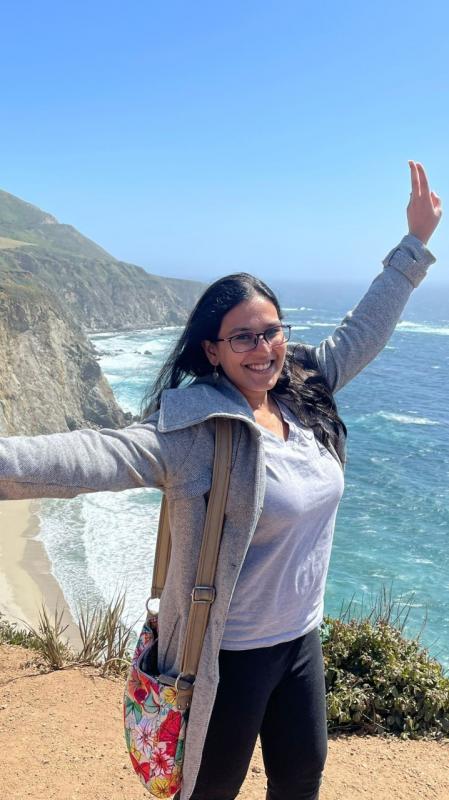 Name: Nupur Kothari
Program: Masters in Economics, Aug. 2020 to Dec. 2021. 
Hometown: Mumbai, India
Favorite class: PUBP 8751 – Big Data and Public Policy
Favorite professor: Dr. Peter Meenan
Internships/clubs: Finance Intern, Life By Spot, Inc. (Summer'21). I also worked with the Global Social Entrepreneurship VIP with Dr. Kirk Bowman during Spring '21.
Most helpful resource in the School of Economics: Dr. Nair-Reichert and Dr. Buser have been very helpful for any concerns/questions about the MS program. The Econ Club events were great as they provided numerous networking opportunities.
1. Why did you choose Georgia Tech?
Georgia Tech's mission statement — to develop leaders who advance technology and improve the human condition — resonated with me. I want to put my skills and experience to improve the lives of people and the community at large. With the use of technology becoming ubiquitous and data being the new oil, I realized the need to upskill myself. The MS Economics program at Georgia Tech allowed me to learn quantitative and analytical skills along with other technical skills. The program focuses on the application of economic and statistical concepts, and training in software used in the industry is encouraged, which is why I chose Georgia Tech.
2. Who or what inspired you to study economics?
The manager at my first job was an engineer but a great fan of economics and used to always encourage me to read more about economic concepts. He was a very knowledgeable individual and an impeccable professional. The nature of my job got me interested in learning more about micro and macro-economic concepts as well. I felt that an economics degree would not only help me understand business models better but also hone my analytical skills.
3. What's the coolest research/project/initiative/event you've worked on here?
I work with the Global Social Entrepreneurship VIP, which enables students to run a non-profit organization – Rise Up & Care. We support and create children's books and documentaries about local social entrepreneurs (superheroes) who transform their communities by engaging children and youth in high-performance activities such as sports, circus performances. We have focused on local superheroes in Brazil and are now looking for superheroes in Puerto Rico. Ideating about children's books ideas, organizing a live movie screening event, reaching out to various organizations to market our efforts were some of the interesting initiatives that I took during the spring semester. It was a great learning opportunity!
4. What was the biggest challenge you've faced at Georgia Tech, and how did you overcome it?
Studying remotely without much interaction with other fellow classmates was challenging. Also, managing time to successfully submit assignments and study for exams was quite difficult at the beginning. Prioritizing, planning, regularly communicating with professors to know more about their expectations helped me focus and complete my assignments and tests successfully.
5. What's your proudest achievement from your time at Georgia Tech so far?
I had learned to program in Java back in high school, but I had never applied it in my professional life. After coming to Georgia Tech, I worked with R and Python extensively for numerous programming assignments. It has given me a lot of confidence in programmatically solving problems and automating data analysis. For my internship, I've been working on building a financial model and was able to use Visual Basic to automate various parts of my model. I am proud that I could apply my programming skills at work and experiment with ways to automate tasks.
6. What's the biggest change you see in yourself now from when you arrived?
Networking and reaching out to people were not some of my greatest strengths. To market the Global Social Entrepreneurship VIP and Rise Up & Care (the NGO we students manage as part of the VIP), I reached out to a lot of people in the social impact space. This experience has made me more confident in reaching out to people and less hesitant to network with people.
7. What's your #1 piece of advice for incoming students in the School of Economics?
The professors and advisors at Georgia Tech are more than happy to help the students and are always an email away. Hence incoming/new students should not hesitate in reaching out to professors for any help/ information, learning more about the courses they teach, research projects, etc. Georgia Tech has so much to offer and students should make use of all learning opportunities.
8. What's your biggest, craziest goal after you graduate (aka how do you want to change the world)?
I want to work at an impact investment/impact consulting firm and facilitate channeling of capital to social entrepreneurs who work at the grassroots to bring about a change in the lives of people around them, their communities, and make this world a better and more equitable place to live in.
Meet more students, faculty, and alumni in the School of Economics in our Featured Person Profiles. Then, connect with us on LinkedIn, Twitter, Instagram, and Facebook to keep up with our students, school news, and upcoming events!