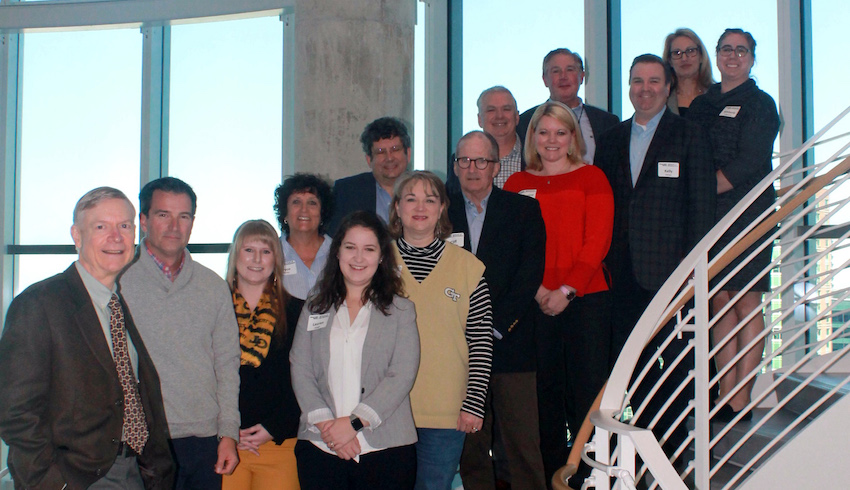 The primary mission of the Board of Advisors in the School of Economics (BASE) is to assist the Chair in identifying and securing financial or other opportunities for the further development of the School of Economics, its faculty, students, and programs. In addition, the BASE acts as an advocacy group for the School within and among Georgia Tech and its various external constituencies, as well as a sounding board for the Chair on matters relevant to the articulation and direction of the School's long-range strategies for academic excellence.  Current members of our Board of Advisors, in alphabetical order, include:
Katherine Brune
B.S. Economics, 2002
Director of Employee Well-Being & Benefits, SunTrust Banks, Inc. 
Katherine Wells Brune graduated from Georgia Institute of Technology with a B.S. in Economics in 2002. While at Tech, she was active in the Alpha Xi Delta sorority and FASET. She earned her M.S. in Human Resource Development from Georgia State University. She began her career at NetBank, an online financial institution, and in 2006, Katherine joined SunTrust where she has held various positions in Human Resources and Commercial Banking. She currently is a Senior Vice President and Director of Employee Well-Being and Benefits for the bank.
Katherine grew up in Alpharetta and currently lives in Marietta with her husband Matt (CE '00), daughter Hannah and son Mark. She spends her free time playing with her kids, cooking and reading.
Kimberly Colbourne
B.S. Economics, 2001
Senior Medical Economics Consultant at Aetna, a CVS Health Company
Kimberly Colbourne graduated from Georgia Tech in 2001 with a Bachelor of Science in Economics.  She also earned her MBA at the University of Florida with a concentration in finance and entrepreneurship. Upon graduation, she started her career at the Federal Reserve Bank conducting statistical analysis of banks with the Southeastern District of the United States. She held other jobs such as at the Federal Home Loan Bank evaluating financial risk in the market,  Morgan Stanley as a Financial Adviser, and McKesson as a Corporate Finance Manager.  Currently, she works at Aetna, a CVS Health Company in Atlanta, Georgia, in the medical economics department.
Kimberly lives in Marietta with her husband Jim, and two children: Katie and William. Although most consider her a Royal aficionado, due to her children being named Will and Kate, she loves history and documentaries on historical periods. In her spare time, Kimberly enjoys travel and photography, but normally can be found taking her children to various extracurricular activities or doing projects around the house.
Lauren Gough
B.S. Economics, 2011
Senior Analyst, Pacific Inventory, Delta Air Lines, Inc.
Lauren Gough earned a Bachelor of Science in Economics from Georgia Tech in 2011. She is currently a Domestic Inventory Senior Analyst in the Revenue Management department of Delta Air Lines. She is responsible for managing a scope of markets where she balances the supply of seats with the demand of passengers in making a load/yield trade-off in order to maximize revenue on every flight. Lauren works at the Delta Air Lines World Headquarters in Atlanta. Georgia.
Lauren lives in Newnan, Georgia with her husband, Kevin, a fellow Georgia Tech alumnus, and their dachshund. They enjoy traveling the world as much as possible and experiencing new cultures. Lauren was an active member of the Alpha Chi Omega sorority and has served as a referee and a community coach in women's lacrosse. She is currently a mentor for a younger colleague at Delta and a member of both the International OCD Foundation and OCD Georgia.
Mike Haswell
B.S. Economics, 1989
Vice President of Sales and Marketing, RLI Insurance
Mike Haswell earned a Bachelor of Science in Economics from Georgia Tech in 1989 and has designations in both AFCPE and CPCU. He has worked in the insurance and tech industry for over twenty years in various leadership and sales roles. His primary role at Safeco Insurance, where he worked for fifteen years, was as an Assistant Vice President and Regional Claims Manager. This included primary responsibility for loss costs of $400 million, primary responsibility for 350 employees, agent and customer satisfaction, and expense control for the Southeast Region claims department. Mike's role at PerformanceGateway was Vice President of Sales as he onboarded major clients in a specific web strategy targeted to large P&C insurers. His current role is Vice President of Business Development and Retention at RLI Insurance. He leads the Transportation Division Sales and Marketing strategies with agents and insureds for increased premium growth in all three transportation programs.
Mike has also served as the leader of Storing Treasures, an organization designed to help individuals discover their unique financial personality and help them better reach their financial goals. The mission is to offer a web-based financial education program and financial plan to organizations so they can sponsor this with their employees, clients, and students. Mike also has previous experience as an officer in church leadership. He is married to Tonya; they have four children and live in Lawrenceville, Georgia.
Charles E. Hodges II (Chuck)  
M.S. Economics, 2018
Partner, JONES DAY 
Chuck is a partner with Jones Day, one of the ten largest law firms in the United States, specializing in federal tax controversies and litigation.  Chuck combines his tax law background with his master's degree in economics to advise clients on transfer pricing issues and the global taxation of intellectual property. Chuck is an international tax columnist for the Journal of Taxation and serves as chair of the Federal Bar Tax Section for Atlanta, secretary/treasurer of the Atlanta Bar Tax Section, and is a former chair of the Georgia Bar Tax Section. He is also a Fellow of the American College of Tax Counsel and a Fellow of the American College of Trusts & Estates Counsel (for tax controversies and litigation).
Richard House, Jr.
B.S. Economics, 1985
Managing Director, Joe Mack Ventures, LLC
Richard R. House, Jr. was named president of CompuCredit in October 2000 and became a director in May 2001. House served as chief credit officer from the time he joined CompuCredit in April 1997 until being named president. He has more than fifteen years of experience in the consumer credit industry. From 1993 until 1997, House managed and directed Equifax's Decision Solutions division, the company's quantitative analysis and modeling group. Prior to joining Equifax in 1991, he was employed by the JC Penney Company, where he held various positions in credit operations and credit policy.
House earned a Bachelor of Science in Economics from Georgia Institute of Technology and a Master of Arts in Economics from Southern Methodist University.
Richard Inman, Jr.
B.S. Economics, 1973
Managing Principal, Iron Bridge Capital Partners
Richard B. Inman, Jr. is the managing principal and founder of Iron Bridge Capital Partners in Atlanta, Georgia. Iron Bridge specializes in the development and financing of public/private partnerships, infrastructure, affordable housing, and traditional real estate projects. It has particular expertise in developing in challenging locations. Over the past ten years, the firm has focused in the Pacific and has developed and invested over $300 million in a 50-megawatt power plant, four schools, and 575 affordable housing units on the islands of Guam and Saipan.  Inman started his career in New York as an investment banker, later moving to Atlanta. He acquired and sold two food companies for his own account. As Chief Executive Officer of the Tucker Federal Bank, he guided its growth from $250 million to $1.2 billion in assets along with a 400% increase in stock price.
He earned a Bachelor of Science in Economics from Georgia Tech and a Masters of Business Administration from Stanford University. While at Georgia Tech, Inman was elected to Anak and ODK, played on the Tech Soccer Club, and was a member of ATO Fraternity.  Inman is active in the community as a founder of La Societe des Tetes Grande and serves as Chairman of the Board of Directors of Guam Education Financing Foundation and Chairman of the Board of Advisors for the Georgia Tech School of Economics.  Previously, he has served as President of Christmas in April (Gwinnett), Chairman of the Board of Directors of the Georgia State Soccer Association, and on the boards of Emory-Northlake Hospital and Atlanta Soccer Park. 
Wendy Horton McLeod
B.S. International Affairs 1994 & M.S. Economics 1996
Director, Product Insights at Cox Communications
Wendy's career spans 20+ years in the telecommunications industry. After graduating from Georgia Tech in 1996, Wendy worked at Sprint for 6 years, then began working for Cox Communications in 2002. Her roles at Cox include support for Technology, Customer Care, and Product organizations through process improvement, program management, and analytics. Wendy is a certified Project Management Professional (PMP) and a Six Sigma Black Belt.
Wendy is an active volunteer with Young Life and serves on the Perimeter North Area Committee. She is a member of Northside United Methodist Church and lives in Vinings with her husband John (B.S. Econ 1989, M.S. Econ 1994) and their 2 children.
Kelly Orman
B.S. Economics, 1995
Senior Director, Business Operations, SAP AG
Kelly Orman has more than fifteen years of experience as a global finance and sales operations leader. He is currently Senior Director, Business Operations at SAP Americans - a subsidiary of SAP AG which oversees the company's business operations in the United States, Canada, Latin America, and the Caribbean. He has served in a number of leadership roles responsible for maximizing global sales productivity and performance. Kelly is currently focused on building cohesive, consistent programs that support SAP's largest and most strategic global accounts. He started his career as an equity research associate at The Robinson-Humphrey Company, LLC focusing on the healthcare industry.
Kelly earned his B.S. in Economics from Georgia Institute of Technology, where he participated in the Co-Operative Education program in Sales and Marketing at the IBM Corporation. He earned his M.B.A. from the Goizueta School of Business at Emory University.  Kelly is an avid golfer, youth athletics coach, and is an active volunteer in the Homeless Ministry of Our Lady of the Assumption Catholic Church.  Kelly lives in Brookhaven with his wife and son.
Joseph Owens, Jr.
B.S. Economics, 1977
Chief Financial Officer, Indego Africa
Joseph B. Owens, Jr. is Chief Financial Officer and a member of the Board of Directors of Indego Africa Project, a non-profit social enterprise that supports women-owned businesses in Rwanda and Ghana through access to markets and education. Previously he was with American Express Company for over 30 years, where he held leadership positions in finance, business transformation and reengineering, and revenue development.
His positions included Vice President, Strategic Transformation for American Express Global Business Travel, one of the largest corporate travel management companies worldwide. Prior to that, Joe was CFO of Global Business Travel. He has held cross-product line CFO positions in Asia, Europe, and Latin America. During his career with American Express, he has lived in Bangkok, Rome, London, Frankfurt, and Miami, as well as his base in New York. Joe holds a Bachelor of Science in Economics from the Georgia Institute of Technology and a Master of Business Administration from the Owen Graduate School of Management at Vanderbilt University.
Joe is a member of the Ivan Allen College Advisory Board and the Board of Advisors for the School of Economics at Georgia Tech, as well as the Alumni Council of the Owen School at Vanderbilt.
Jonathan Samon 
B.S. Economics, 2001
General Counsel, eProdigy Financial  
Jonathan received his B.S. in economics in 2001 and was a member of Omicron Delta Epsilon, the economics honor society.  After receiving his degree from Georgia Tech, Jonathan attended Seton Hall University where he earned his J.D.  Currently, Jonathan is general counsel at eProdigy Financial, a fintech company located in New York, NY, and has responsibility on all legal matters in the company's operations, including internal compliance with financial services and data privacy regulations; transactional matters with clients, business partners, and vendors; and outside counsel in litigated matters. Prior to this role, Jonathan spent over a dozen years in private practice, and served two years as a federal clerk.  
Jonathan is an adjunct professor with the Seton Hall School of Law, an avid marathon runner (a proud 50 States Marathon Club member), dabbles in voice-over work, enjoys classic literature and is currently increasing his fluency in Portuguese.
Joyce Saputa
B.S. Economics, 1976
Joyce Saputa received her B.S. in Economics in 1976 and M.S. in Industrial Management in 1977 from Georgia Tech. She has worked for the Tennessee Valley Authority (TVA) and has held positions as an Economist, Manager of Financial Analysis (Distributor Retail Rates), and Senior Financial Analyst.  As a member of the TVA Retirees Association, she has completed FEMA work for disasters.
Joyce is a member of the Chattanooga Georgia Tech Club and has previously held the positions of Scholarship Chairperson, Secretary, and President. She is currently active in the Chattanooga Georgia Tech Network, the Tennessee Valley Chapter of the American Hemerocallis Society, and the Hamilton County Tennessee Master Gardeners Association.