Economics Club At Georgia Tech
The Economics Club at Georgia Tech provides an active forum for the discussion of ideas related to economics and society outside of the classroom. Students of all majors at Georgia Institute of Technology are invited to be a member of this academic, social, and philanthropic organization––an interest in economics is all that is required!
The club sponsors film viewings, guest speakers, museum trips, and other events. Active club members are also invited to Atlanta Economics Club events.
Current Officers

| | |
| --- | --- |
| President | Robert Bierbaum |
| Vice-President | Benjamin Harrison |
| Treasurer | Lillian Davis |
Get Connected and Stay in Touch!
To officially join the organization, please go to Engage @ Georgia Tech and search for "Economics Club."
To join the Economics Club email list (Google Group), please use the following link: https://groups.google.com/d/forum/gt-econ-club.
To join the Economics Club GroupMe, please use the following link: https://groupme.com/join_group/44073438/9vOwJa.
Omicron Delta Epsilon (ODE)
Omicron Delta Epsilon is one of the world's largest academic honor societies. The objectives of Omicron Delta Epsilon are: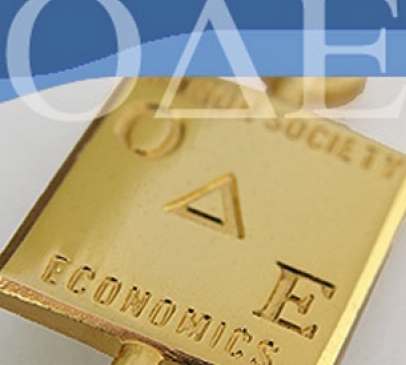 the recognition of scholastic attainment and the honoring of outstanding achievements in economics;
the establishment of closer ties between students and faculty in economics within and among colleges and universities;
the publication of its official journal, The American Economist; and
the sponsoring of panels at professional meetings such as the Irving Fisher and Frank W. Taussig competitions.
Currently, the Georgia Kappa chapter at Georgia Tech has nearly 200 members, with 10-20 new members inducted annually.  To be invited, students must have a 3.0 cumulative GPA, be a junior, senior, or MS student, and have completed twelve or more hours of economics coursework.  More information is available on how to join ODE.
Interested in learning more?