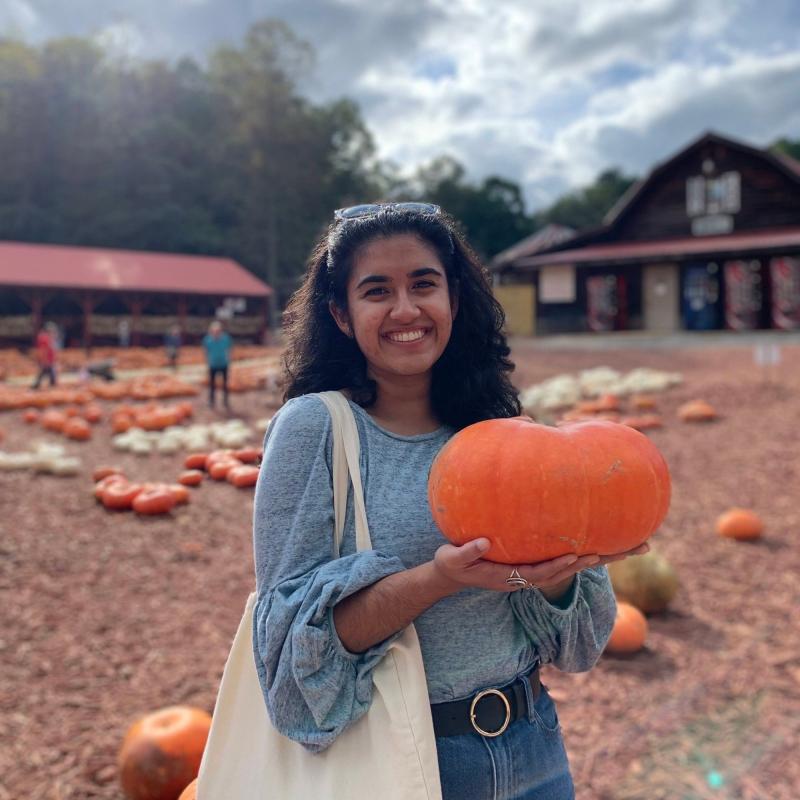 Name: Rupkatha Banerjee
Year: 4th year
Major/minor: B.S. Economics, B.S. Mathematics
Hometown: Johns Creek, GA
Favorite class: Game Theory or Strategy of Information
Favorite professor: Dr. Shemyakina, Dr. Burkett
Internships/clubs: Campaign and Legislative Intern at the ACLU of Georgia, Vice President of External Affairs for Undergraduate SGA, Peer Advocate and Educator for VOICE, President of GT ODE, Honors Program, AAPI Outreach Intern for Warnock for Georgia
Most helpful resource in the School of Economics: Undergrad advisors were really helpful with adding on a major and completing an internship for credit
1. Why did you choose Georgia Tech?
I toured IAC near the end of my senior year and loved the academic environment and community it provided! I knew that coming to Tech would provide me with a strong STEM and CS background to integrate into my economics degree. I ultimately added on a math major, as it aligned with my interests, and found several intersections between subjects in math and economics I enjoy, like analysis and microeconomic theory.
2. Who or what inspired you to study economics?
I was really interested in politics in high school and found my niche in economic policymaking and research concerning socioeconomic deprivation and wealth inequity. I've always been passionate about how to incorporate activism/organizing into my career and academic trajectory and found that economics was the best subject to do that.
3. What's the coolest research/project/initiative/event you've worked on here?
In Fall 2021, I joined SGA's executive branch by stepping into the community relations chair position. Community relations in the past has focused on connecting students with recreational opportunities in Atlanta (like Hawks Night, Krog Street Crawl, etc.), but I wanted to shift its focus this year to incorporate mutual aid.
To address food insecurity in Midtown, we opened the first community fridge on campus! Now we're working towards establishing more food outposts to expand our network and ensure that our campus and surrounding communities have access to free and fresh food.
4. What was the biggest challenge you've faced at Georgia Tech, and how did you overcome it?
The biggest challenge I've encountered is establishing a healthy work-life balance, especially during the pandemic. We're inextricably connected to our phones, emails, and Canvas at all times, so it can seem almost impossible (and maybe even wrong) to step away from work.
Sometimes during the semester, I find that the only time I set reasonable expectations and boundaries for myself is when I'm physically incapable of continuing working; the culture of Georgia Tech is fueled by an often-unrelenting drive for achievement, which can quickly become overwhelming. I now intentionally set time aside to recover from periods of strenuous work and ensure that I don't always center my metrics for success on my productivity.
5. What's your proudest achievement from your time at Georgia Tech so far?
My proudest achievement from my time at Tech is my internship at the ACLU of Georgia! It was a competitive program and provided me with incredible insight into campaigning, local politics, and the legislative process.
I was able to implement some of my programming background in data analysis projects, one of which included parsing through purged voter rolls. I created electoral frameworks and demographic profiles for congressional districts, which ultimately enhanced my understanding of the socioeconomic and political issues that afflict marginalized populations in the state of Georgia.
6. What's the biggest change you see in yourself now from when you arrived?
I've developed a passion for subjects that I didn't originally anticipate myself liking and a desire for learning that has grown throughout the course of my college experience.
Out of high school, I was very career-driven and resume-oriented; I focused very heavily on my objective performance in every class and my transcript. Over the past few years, I've learned to slow down and immerse myself in the subject matter of each of my classes. I've found that the classes that I succeed in are the ones I enjoy the most.
Instead of working from exam to exam, I've made more of a concerted effort to learn course content. I'd like to pursue a PhD, so my focus has shifted from simply getting a good grade to cultivating a stronger interest in my field.
7. What's your #1 piece of advice for incoming students in the School of Economics?
To connect with faculty! It's so critical to develop strong working relationships with your professors. The classes you take, research you conduct, and advice you receive from professors will be formative during your college experience. It can be intimidating to go to office hours or engage more meaningfully with your instructors, but the insight you gain will be incredibly rewarding.
8. What's your biggest, craziest goal after you graduate (aka how do you want to change the world)?
I want to continue including activism/organizing as a part of my research after college, and though I don't know exactly how I fit into the picture yet, I envision a world where every population has equitable access to housing, fresh food, healthcare, education, and basic necessities. I would like my work to reflect my conviction in ensuring that everyone's needs are met.
Thank you for sharing your experience, Rupkatha! Explore more student, faculty, and alumni profiles, and stay tuned on Facebook, Twitter, LinkedIn, and Instagram for new spotlights every month!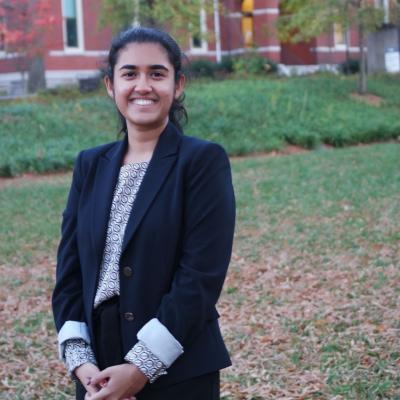 Degree
B.S. in Economics, B.S. in Mathematics