Team Members
Lanfang Deng, Zhiqiang Li
About This Project
Do young children develop improved cognitive ability (reasoning, learning, remembering, for example) when living in a household with both grandparents and parents? And what role does assigning childcare responsibility (grandmother vs. father, or all adults) play in the ability to learn?
Haizheng Li at Georgia Tech's School of Economics, and two co-authors, investigated the impact of multigenerational family co-residence and shared childcare responsibility on a child's cognitive development.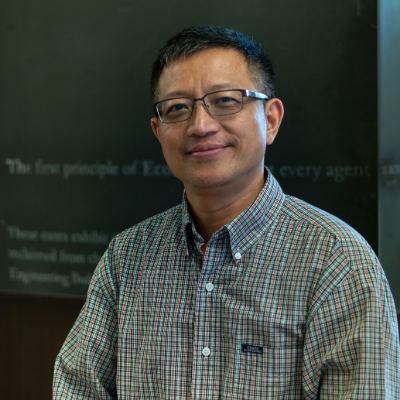 The researchers used data from China, where it is not uncommon for three generations to live under the same roof, especially in rural regions. The empirical analysis finds that the children living in the multigenerational family generally perform better in their cognitive tests after controlling for other factors (i.e., from the 50th to 66th percentile in the distribution of the test scores), compared with the peers living in parent-only families.
And this result holds only for elementary school children, but not for middle school children. However, the children who lived only with their parents and children who lived only with their grandparents (the left-behind children) did not show a significant difference in their cognitive performance.
Moreover, the effect of family environment on learning differed between boys and girls; this confirmed previous studies suggesting that girls and boys have different degrees of emotional closeness to, and different tendencies to seek help from, their grandparents.
Family economics undoubtedly influences a child's cognitive development. The phrase "left-behind children" refers to those whose parents have moved away to find better jobs, leaving other family members to take care of the child, sometimes for years. Co-authors of this study are Lanfang Deng, at Hunan University in China and Zhiqiang Liu at State University of New York at Buffalo.
By Gita Smith