HEAL Fosters Relationships between the School of Economics and other Georgia Tech Units 
The Health Economics and Analytics Lab (HEAL) is a unit of the School of Economics in the Ivan Allen College of Liberal Arts and is designed to create synergy between the faculty and students in the School of Economics with other Georgia Tech departments through interdisciplinary research. 
HEAL focuses on applying big data analytics and machine learning to large-scale medical claims databases. We specialize in advanced imaging services to better understand how healthcare delivery and payment models have an impact on patients and care providers alike. Our goal is to improve the healthcare system by using our research to create a more efficient and sustainable system for the population. Through this work, we hope to bridge the gap between science and public policy through the lens of healthcare economics. 
HEAL provides fellowships for masters and doctoral students which include paid tuition and a stipend for selected students. Students selected for the fellowship learn statistical coding languages including Python, R, SQL, Tableau, and Stata. 
Meet the Director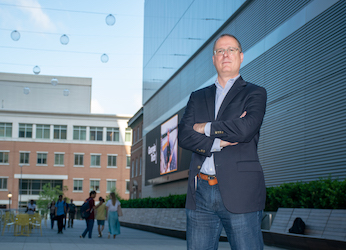 Danny Hughes is a Professor in the School of Economics and Director of HEAL. He also serves as an Adjunct Professor at Emory University School of Medicine's Department of Radiology and Imaging Sciences. His research focuses on the roles of technology, innovation, and incentives in the delivery and usage of health care services – with a specific focus on the economics of medical imaging. His externally funded research has focused on exploiting large scale data to explore contemporary health policy issues. He has published over 100 articles in leading journals across economics, health services research, and operations research.
Prior to Georgia Tech, he served as Executive Director of the Harvey L. Neiman Health Policy Institute. He has held previous academic appointments at George Mason University, the University of Oklahoma, and the University of South Alabama. Professor Hughes has also held research and management positions at the American College of Radiology, Logistics Management Institute, and Tecolote Research. 
Interested in Learning More?
Interested in learning more about the Health Economics & Analytics Lab (HEAL)?
Contact Research Associate, Candice Sessa, or Professor & HEAL Director, Danny Hughes for more information!